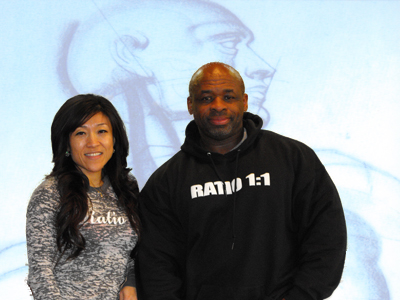 Ratio 1:1 is run by a dedicated husband and wife team whom will empower you with the discipline necessary to adopt a healthier life style. We have the most comprehensive and in-depth programs available. In addition to our personalized cardiovascular, weight training, toning, and nutritional programs we are also renown for enhancing your mental motivation. If you are not satisfied with the quality of your health, your physique, lack the mental motivation to do something about it, and want the most progress in the least amount of time, you need to join Ratio 1:1 - the South Suburban premiere private fitness training facility!
In 2006, Chicago was ranked as the #1 fattest city in the nation by Men's Health and Fitness magazine. Aesthetics aside, a long list of health-related problems accompany this unflattering title: high blood pressure, unhealthy cholesterol levels, arthritis, heart disease and strokes, to name a few. These health problems know no age barriers, befalling youth as well as senior citizens. Clinical studies have proven that lifestyle changes drastically improve, and in some cases cure, these problems - and Ratio 1:1 can help!
Ratio 1:1 was created to offer an alternative to overpriced and ineffective private personal training programs. We achieved this goal by combining customized training programs with the new age technology of nutrition and supplements. We offer affordable weekly, bi-weekly, and monthly payment plans.
We started in 1998 as a private studio providing our clients with the best in qualified trainers, body analysis, nutritional programs, and healthy prepared meals-to-go. We use only state-of-the-art equipment including Nebula, Quinton, Nautilus, Cobra, Lifecycle and Stairmaster. Our goal was to provide our clients with an atmosphere not found in big health clubs and gyms. To that end, we eliminated all of the negative experiences our that clients had had, such as long term contracts, inexperienced staff, vulgar music, and inappropriately dressed patrons.