OUR SERVICES
BODY ANALYSIS - THE RATIO 1:1 WAY
Body weight alone is not a clear indicator of health or fitness because it does not distinguish how many pounds are fat and how many are muscle. But our body analysis techniques help describe the amount and distribution of fat and lean muscle tissue in your body.
We employ a combination of girth (circumference) measurements and skinfold tests (using specialized calipers) to determine your body composition. Our body analyses are highly accurate. They also provide a way to track your progress. We track your progress by taking pictures, girth measurements, and skinfold test every 6 to 8 weeks.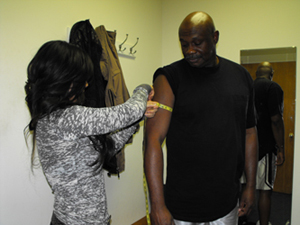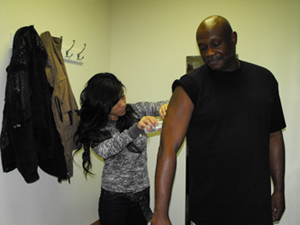 PERSONALIZED NUTRITIONAL PROGRAMS
We know that one-size-fit-all and fad diets don't work. Our nutritional programs are personalized especially for you. Since they are designed around the foods that you like to eat, you are more likely to follow the plan.
New Clients: There is a one-time fee of $60.00 that covers the initial body analysis and the nutritional program.
PERSONAL TRAINING
Each one-on-one session is customized to the needs and goals of the client. A typical session may include warm up, exercises for the abs, strength training, cardio, stretching, etc.
| | |
| --- | --- |
| 2 sessions | $100.00 ($50 per session) |
| 10 sessions | $450.00 ($45 per session) |
NOTE: The photo cube is interactive. Click to start and stop.
MASSAGE THERAPY
Did you know that massage therapy boosts your immune system? It does that and much more. It is also a natural pain reliever as it releases endorphins. Massage therapy also: eases medication dependence; exercises and stretches weak, tight, or atrophied muscles; helps athletes of any level prepare for, and recover from, strenuous workouts; and, more.
We recommend getting a massage every 4 to 6 weeks. A one hour massage is only $80.00.